Things You Should Consider Before Getting Auto Insurance Quotes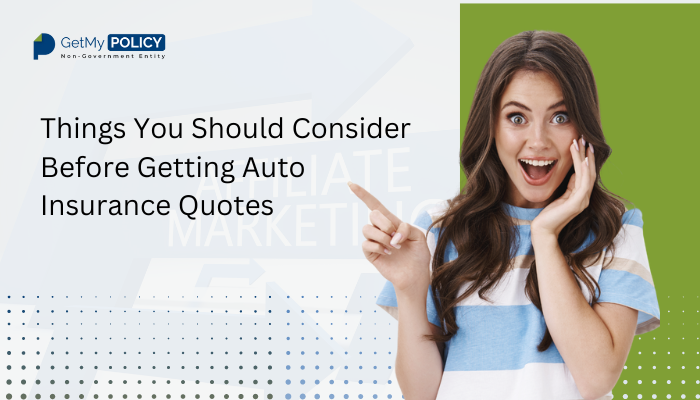 Auto insurance is a necessary expense for any car owner in the United States. It not only protects you financially in the event of an accident but it is also required by law in most states.
If you're in the market for a new auto insurance policy, or just looking to compare quotes from different providers, here's Get My Policy helps you with a few tips on how to get auto insurance quotes in the US market.
Things To Consider While Getting Auto Insurance Quotes
Gather all the necessary information. Before you start shopping for auto insurance quotes, make sure you have all the necessary information on hand. This includes your personal information (name, address, date of birth, etc.), your vehicle information (make, model, year, etc.), and your driving history (any accidents or violations).
Compare quotes from multiple providers. Once you have all the necessary information, you can start comparing quotes from different auto insurance providers. There are several websites that allow you to compare quotes from multiple providers at once. Even you can directly contact insurers to get quotes.
Check for discounts. Many auto insurance providers offer discounts to customers who meet certain criteria. For example, you may be eligible for a discount if you have multiple vehicles insured with the same company, or if you have a good driving record. Be sure to ask about any discounts you may qualify for when getting quotes.
Read the fine print. Before you choose an auto insurance policy, be sure to read the fine print and understand the terms and conditions of the policy. Make sure you understand what is covered, what is not covered, and what the deductibles and limits are.
Choose the right coverage. Not all instant auto insurance policies are created equal, so it's important to choose the right coverage for your needs. For example, if you have a newer car, you may want to consider collision and comprehensive coverage to protect your vehicle in the event of an accident. If you have an older car, liability coverage may be sufficient.
Find out The Best Car Insurance Comparison Sites
To save yourself the tedious task of comparing quotes from numerous firms, you can use an online insurance comparison tool when looking for auto insurance quotes. These car insurance comparison tools may ask for your personal information in order to produce your quotations and assist you in searching for your next policy.
Not all auto insurance finders, however, keep your information confidential. In many cases, lead generation websites sell your information to insurance firms, who then contact you repeatedly in an effort to get your business.
It is in your best interest to learn how your information is handled before providing your contact information for online instant auto insurance quotes if you want to prevent receiving spam emails, messages, and phone calls. The easiest approach to finding affordable insurance without compromising your sanity is to use a website that generates actual insurance quotations without selling your information.
Be cautious before providing any personal information because, regrettably, the majority of internet quotation comparison services use a lead-gen model.
The Zebra is suggesting some good auto insurance lead generation sites such as:
ValuePenguin
InsuranceQuotes
NetQuote
EverQuote

Get My Policy is adding a few more points that you should consider before getting your auto insurance quotes:
1. Know The IDV Of The Car
The Insured Declared Value(IDV) of the car is the current market value of the car. If the car is stolen or is beyond any possible repairs, the insurer will pay the IDV to you. Inversely, a greater IDV results in a higher policy premium. Do not forget that the lowest IDV may potentially have negative consequences.
2. Understand Different Policies
When you search for instant auto insurance quotes online, you will find various policies that help you in making a more informed decision. So always compare car insurance quotes, where you will find different plans such as third-party liability, standalone policy, and comprehensive policy. Each serves a different purpose and can help you secure the best policy for your needs.
3. Choose Add-ons
During comparing auto insurance quotes, you can also save money with an add-on. Because add-ons are additional features that you can plug into your policy through a small premium. The most demanding add-ons are emergency roadside assistance, zero depreciation cover, and NCB coverage for protection.
4. Find Garages In The Network
When you are comparing insurance quotes, you must check the brokers and the network garages list. These garages will benefit from repair and even reimbursement on easier claims.
5. Tenure Plan
Previously car owners used to buy a policy only for a year. Later IRDAI introduced several changes to it. As per the changes, car owners opt for long-term plans. Today when you compare insurance brokers you can opt for a plan with two or three years as the policy tenures. So that you will be away from the renewal process and save on premiums.
6. Insurance Performance
To get auto insurance quotes when you compare insurance brokers, you can check the incurred claim ratio of the insurer. The ratio indicated the number of claims that the insurer has settled versus the total number of premiums that the insurer has collected.
Within car insurance driving can be both dangerous and can get into trouble with the traffic police department. The Get My Policy tips will help you to get auto insurance quotes and even renew your policy before the existing policy expires is the best thing to do.
By following these tips, you'll be well on your way to finding the right auto insurance policy at the right price. Remember to compare quotes from multiple providers, check for discounts, read the fine print, and choose the right coverage. With a little bit of research, you'll be able to find an auto insurance policy that meets your needs and fits your budget or else schedule a meeting with Get My Policy experts.
---