Top 5 Benefits of Health Insurance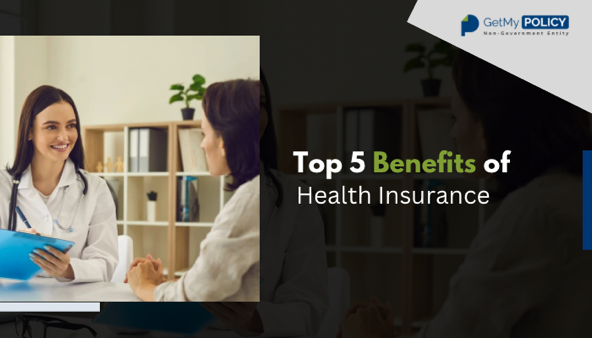 It is accurate to claim that wealth is health. Many factors, including modified living habits, increasing pollution levels, and many others, have a substantial impact on a person's health. There may be a variety of ailments and health problems as a result of this. The cost of using drugs to treat these conditions is rapidly increasing.
You must invest in health insurance policies to safeguard your finances from hefty medical expenses. These policies cover all hospitalisation costs, including those incurred before and after admission. At GetMeMyPolicy, we provide the benefits of health insurance to those who are looking for their health assurance. The next five advantages of purchasing a health insurance plan are as follows:
Let's check out the following 5 benefits of health insurance
1. Coverage against medical expenses
The primary objective of medical insurance is to allow you to receive excellent medical care without having to place an undue financial burden on yourself. Health insurance policies offer defence against high medical costs. In addition to many other things, it covers things like domestic charges, ambulance fees, and hospitalisation bills. As a result, you might stop worrying about the exorbitant costs and start worrying about your quick recovery.
2. Coverage against critical illnesses
Currently, critical illness insurance is offered by insurance firms as a standalone policy or as a rider. A policy of this kind provides coverage for conditions that can be fatal, including kidney failure, bone marrow transplant, stroke, and amputation. Upon diagnosis of any serious sickness on the policy's specified list, you are qualified for a lump sum payout.
You may use this money to pay off any outstanding bills, everyday expenses, and medical expenses. This is one of the best benefits of health insurance that it covers such kind of earlier mentioned illness.
3. Cashless claim benefit
An option for cashless claims is offered by several insurance firms. You are not required to pay anything up front under such an agreement. The hospital will negotiate an agreement with your insurance provider to pay for your hospitalisation.
To use this benefit, you must be admitted to a hospital that is a part of the insurer's network. Fill out a pre-authorization form and show your health insurance card to utilise the cashless facility to avail of the benefits of health insurance.
4. Extra security beyond what your employer is providing
Many companies provide group insurance to cover their employees. Yet, these policies do not take into account the needs of each individual. Also, you might not have insurance if your employment changes or you are fired.
To protect yourself in such a situation, get personal health insurance coverage. The employer is providing less security than the coverage given by the health insurance firms thus giving additional benefits of health insurance.
5. Plans for healthcare offer tax advantages
Health insurance premium payments are eligible for tax deductions under Section 80D of the Income Tax Act of 1961. The deduction is worth the following: The individual received $304 for himself and his family. A deduction of $612 is provided if the person or their spouse is 60 years of age or older. For parents who are under 60 years old and over 60 years old, it is possible to deduct an additional$ 304 and $612 for their insurance, respectively (whether the parents are dependent or not).
For uninsured super senior elders (80 years of age or more), medical expenses up to $612 are acceptable. The expense of a preventative health checkup for the individual or members of his family, including his spouse, parents, and dependent children, may be deducted up to $61 under this provision. This deduction is PART OF the $306/612 deduction that was previously specified, NOT IN SUPPLEMENT TO IT.
When choosing from the different medical insurance alternatives available on the market, keep these advantages in mind. To guarantee that you don't miss out on the opportunity to take advantage of all these benefits, choose the perfect plan based on your specific expectations and requirements.
Rundown
Health insurance is an important aspect of modern life that helps individuals and families manage the high costs associated with medical care. Health insurance policies provide coverage for various medical services, including hospitalisation, diagnostic tests, surgeries, and prescription drugs.
With the rising costs of healthcare, having health insurance can help protect individuals from financial ruin in the event of a serious illness or injury. It is important to carefully consider the type of health insurance policy that best meets your needs and budget. In addition, it is essential to understand the terms and conditions of your policy, including any limitations or exclusions.
By choosing the right health insurance policy and staying informed about your coverage, you can ensure that you and your loved ones have access to the medical care you need without worrying about the financial burden.
---