Know How You Can Compare Auto Insurance Plans To Save Money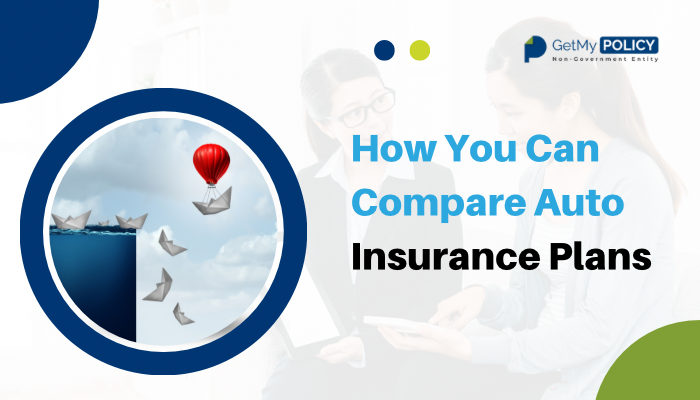 Whenever you do shopping, it is obvious that you will always go for the best deals. Whether it is online or offline no matter what you are looking to purchase, always look for different options, and do comparisons to ensure to buy the best. And when it is about auto insurance then how can you neglect a comparison?
It is kind of mandatory. However, here is the question first of all, do you know how to compare auto insurance plans with other plans? In this Get My Policy blog, we will guide you on this. Let's explore:
Our Guide to Auto Insurance Comparison
Get My Policy guide will help you to understand auto insurance plans, and clarify auto insurance comparisons where you can consider switching policies.
When you plan to switch to a different auto insurance policy you should know whether it is an effective way or whether you are getting the plan with a lower rate or not. Our experts will guide you on how to get a lower rate, better coverage, superior service, and the best suggestions. First, evaluate new policies and make sure you are not losing the coverage you depend on just to slightly reduce your premiums.
Follow our compare auto insurance plans guide to clear things up:
Keep eye on coverage limits
When you discuss auto insurance coverage, it must include bodily injury and property damage also. So that you can thoroughly check on the plans about all the coverage limits. You need to make sure the limits should be the same or higher than your current plan.
Otherwise, you will find yourself facing the more expensive cost of the accident. Do you know that insurance also covers medical bills associated with auto accidents? So compare the auto insurance plans thoroughly for every feature.
Compare Tort Options
When you compare auto insurance plans make sure you are comparing the same policies in terms of their features. Must check the tort option, which when you select influences your car insurance premium. When you change tort options it may make for a lower premium. So when you are comparing more policies you must see that all have the same tort option.
Endorsement Evaluation
The add-ons in the policy always benefit the driver. At Get My Policy, we always advise people on comparing car insurance with available add-ons. Make sure that all of the insurance plans you are comparing have the same endorsements.
The most crucial endorsements we recommend are newer car replacements in the event of an accident and gap insurance that pays the difference if your car is worth less than what is owed on it.
Look for the Uninsured and Underinsured Coverages
When you are comparing the plans must check for insurance coverage, which is protecting you financially during an accident with an uninsured or underinsured driver.
Compare the Insurance Plans with Policy Terms
Never ignore the policy terms during our auto insurance comparison. Here you have to make sure to evaluate the same coverage time frame. Many times drivers think they are getting a better premium, however, it turns out to only be better because it is a six-month policy term rather than the twelve-month term of another policy. Here the price is too low due to covering half a year only. Therefore make sure of checking the term length.
Find out Things Related to the Service
Only getting robust coverage at a great price is not everything. Getting the right service also matters. So when you compare auto insurance plans you must check whether the insurance company is providing good customer service or not.
The best way to feel for that is to ask who would handle your claim if you were ever in an accident- a licensed agent or a representative? Working directly with your agent is always the best way to proceed.
Don't Ignore Customer Reviews
When you are planning to buy a car insurance policy, you need to know what other customers have to say about the insurance you are selecting. Check on forums, service blogs, and websites to check the reviews regarding the insurers' service and coverage offers. Based on customer reviews, find good reviews and choose an insurer who is providing excellent customer service.
In this way, you can be sure of getting good service when you raise a claim. On the insurer's website or on their social media platforms you can easily read their reviews easily. Consider talking to their customer support staff and asking them questions too to be clear about the plans.
Compare Plans Online
The Internet is the best platform to find the best tips that you can get to compare car insurance plans. Online you can explore a range of policies easily and finally select the best as per your convenience.
Use an aggregator website, where you can compare car insurance policies that are offered by leading insurers. The websites will display only relevant features for you such as the claim settlement ratio, the extent of coverage, and many more like this.
Get My Policy is Displaying the Best and Worst Auto Insurance Comparison Sites
Get My Policy experts are listing many insurance websites to pick the best insurance shopping experience. To help you choose, here is a comprehensive list of the best and worst sites to compare car insurance quotes as per Insurify research analysis:
Best and Worst Auto Insurance Comparison List
Work with Get My Policy to Compare Auto Insurance Plans
Get My Policy is known for providing insurance leads and along with it we offer much more as well. Our service includes a variety of life insurance, property insurance, auto insurance, etc. No matter what type of policy we provide for you, you can always count on us.
Final Thoughts
Our guide on how to compare auto insurance plans will help you to find out the best insurance to meet your personal needs along with minimum investment. If you are searching for new auto insurance, you can schedule a meeting with our experts to take help comparing all options and finding the best policy.
---