Compare Medicare Advantage Insurance Plans 2023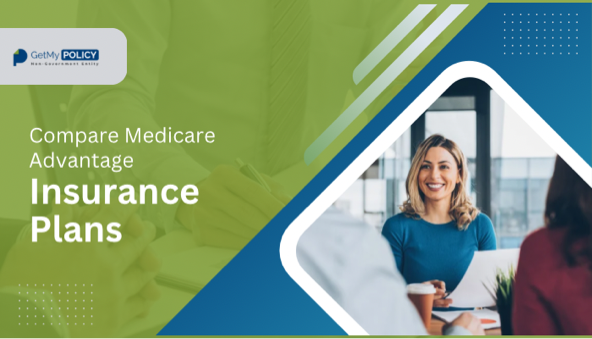 Medicare Advantage plans are growing in popularity day by day. And it is happening for a good reason. People are showing more interest in medicare advantage plans as they are covering more benefits in comparison to original Medicare.
The only thing that matters here is you need to choose the right plan as per your health requirement and budget. This blog Get My Policy is helping you to compare Medicare advantage insurance plans and find the best one.
Medicare Advantage insurance plans are an alternative to traditional Medicare that provide additional benefits and coverage options for beneficiaries. With the increasing number of Medicare Advantage plans available in the market, it can be overwhelming for beneficiaries to choose the right plan for their needs.
To help beneficiaries Get My Policy is helping you make an informed decision, it is important to compare the different Medicare advantage insurance plans and understand what each plan offers.
What is a Medicare Advantage Insurance Plan?
A Medicare advantage plans is a convenient way to customize your health insurance coverage based on your individual needs. This plan is run by the government and is an alternative to Original Medicare.
Every Medicare Advantage plan follows certain rules. Many Medicare Advantage plans include benefits of routine vision, hearing, and dental care, health wellness programs etc. Even often you will get coverage for prescription drugs, which you may not get in Original Medicare. In Original Medicare, you need to buy a separate prescription drug coverage plan such as Medicare Part D.
For the Medicare Advantage, the eligibility includes:
Be a U.S. citizen or lawfully present in the U.S.
Have Medicare Part A and Part B
Live in the service area of the Medicare Advantage plan you're considering
What are the types of Medicare Advantage Plans?
Health Maintenance Organization (HMO) plans: HMO plans generally require people to get care from providers and hospitals that are within the plan's network. There are exceptions, though — emergency care, out-of-area urgent care, and temporary out-of-area dialysis are covered.
Preferred Provider Organization (PPO) plans: With a PPO plan, you'll pay less for care from in-network providers and hospitals, but you can use out-of-network care for a higher price. You'll always be covered for emergency and urgent care. You won't need to choose a primary care doctor and, in most cases, won't have to seek a referral for a specialist.
Private Fee-for-Service (PFFS) plans: With a PFFS, the plan will determine how much it will pay health care providers and hospitals as well as how much you'll pay for care. Some plans allow you to get health care from any doctor or hospital, but others have a network of providers.
Factors That Constrain You For A Comparison
One of the key factors to consider when comparing Medicare Advantage plans is the cost. Beneficiaries should consider the monthly premium, copays, deductibles, and out-of-pocket maximums when comparing the cost of different plans. Some Medicare Advantage plans have no monthly premium, while others may have a higher monthly premium but lower copays and out-of-pocket expenses.
Another important factor to consider is the network of healthcare providers. Beneficiaries should ensure that their preferred doctors, hospitals, and other healthcare providers are part of the plan's network before enrolling. Some Medicare Advantage plans have limited networks, while others have a wider network of providers.
The type of benefits and coverage options offered by each Medicare Advantage plan should also be compared. Some plans offer extra benefits such as dental, vision, and hearing coverage, while others may not. Beneficiaries should also compare the coverage options for prescription drugs, as some plans may offer better coverage for their specific needs.
Finally, beneficiaries should also consider the customer service and support offered by each Medicare Advantage plan. Beneficiaries should look for plans with a reputation for excellent customer service and support, as well as the ability to access information and support through various channels, such as phone, email, and online portals.
When comparing the top Medicare Advantage Insurance plans, here's what you should look at:
Monthly Premiums
The premium for Medicare Advantage plans can vary, so you should check for the monthly payment plans.
Annual Deductibles
When you are choosing a plan it will include health care costs or even prescription drugs cost, so before choosing the plan you must check which plan you can feel comfortable with.
Initial Coverage & Out-of-Pocket Limits
Every Medicare Advantage Insurance plan has a yearly maximum expenditure limit. Therefore once you reach this limit, the plan pays 100% of the covered medical costs that you need for the rest of the year.
Check Extra Benefits
Compare Medicare Advantage insurance plans to find out the extra benefits. Because there are some plans that include additional benefits like dental care, routine vision, hearing, and even free offers or discounted wellness programs.
Prescription Drug Coverage
In each Medicare plan, you can find a list of covered medications. If you are taking prescription drugs, you may want to consider a plan that covers them.
Provider Network
You may like to visit a doctor, who is not included in your Advantage plan's network. Therefore keep in mind that your provider and pharmacy networks can change at any time. If that happens you will be notified by your Medicare plan.
Star Rating
You can compare Medicare Advantage insurance plans as per the rating. Each medicare plan is given a rating between 1 to 5 stars. This is one way to gauge how good each plan is.

Find the Best Medicare Advantage Insurance Plan
As every plan, as well as requirement, is different, you need to take your own budget, health needs, preferred doctors, and prescription medications into consideration. Which one do you think is the best plan that may not be the best for your spouse or other family members and friends? That is why Get My Policy is suggesting you compare Medicare Advantage insurance plans. Take guidance from our experts and find out a plan that worked for you and your family.
Final Thought
Take time to compare Medicare Advantage insurance plans, because it is crucial for beneficiaries to make an informed decision about their healthcare coverage. Beneficiaries should consider the cost, a network of healthcare providers, the type of benefits and coverage options, and customer service and support when comparing different plans. Take Get My Policy help because, with the right information, you can find the plan that best suits your needs and provides the coverage and benefits you require the most.
---