Is Online Car Insurance Better than Offline Car Insurance?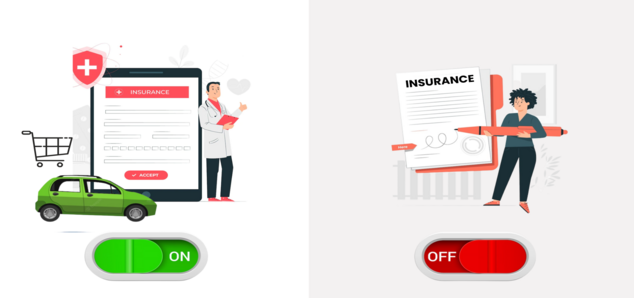 When buying car insurance, the list of platforms is endless. However, the difference between online and offline can help you find affordable car insurance.
Offline car insurance purchase starts at a physical store or after a proper physical contact between the insurance agency and the policyholder. The company may hire an agent to initiate the first few steps of the policy description.
Online car insurance purchase is a process of buying a policy from the Internet using insurance aggregators. These platforms allow the policyholder to directly check the car insurance rates and compare them across a range of factors without involving a third person.
Key Differences Between Online Car Insurance and Offline Car Insurance
Buying insurance online has been a real game-changer. From standing in queues to gaining attention to getting digital attention, the process of insurance selling and buying has changed drastically. While digital has improved customer experience, it has also reduced the person to person contact. Below are a few major differences between online and offline insurance.
1. Convenience:
Many people prefer to buy insurance online because it saves time and can be done from the comfort of their own home or office. In addition, some states only allow residents to purchase certain types of auto insurance policies through an agent so buying online can be the only option for some consumers.
2. Price:
The cost of insurance varies from company to company as well as from state to state. Some insurers may offer lower rates than others or offer discounts for bundling other services with your policy such as roadside assistance or rental reimbursement coverage (RAC).
If you want to reduce your monthly premium, purchasing your policy online could save you money over time because you'll be able to compare quotes between different providers easily and quickly without having to visit multiple offices or spend hours on hold just trying to get a quote from one company!
3. Coverage Limits:
In most cases, an offline policy will have higher coverage limits than an online one. Online policies tend to be cheaper because they are less comprehensive than offline policies. This means that you might not be able to afford as much coverage as you need with an online policy.
4. Features:
Some car insurance providers offer more features than others. For example, some insurers allow you to buy roadside assistance as part of your policy while others don't offer this service at all. Some insurers also offer more coverage options than others which means they may be able to customize their policies based on what kind of driver you are or what kind of car you own.
5. Cost
The biggest difference between online and offline car insurance is cost. Online car insurance is generally about 10% lower than offline policies because it doesn't require any physical infrastructure like offices or buildings. That means you'll save money on your premium by choosing an online provider over an offline one.
6. Underwriting
Offline providers typically have more flexible underwriting policies than online providers do because they have more resources at their disposal. For example, if you have a poor driving record or bad credit history but still want coverage, an offline provider will likely be able to find you a policy that fits your needs while an online provider might not be able to do so.
While it's true that many people are comfortable making purchases and conducting other business over the phone or electronically, there's still something to be said for personal interaction with an agent. With offline car insurance providers, you can sit down with an agent in person and discuss your needs and concerns. You can also ask questions about different policies and find out which one might be best suited for your situation. Online providers don't have this same flexibility; therefore, it's harder for them to help customers who aren't sure what type of coverage they need or how much coverage they need.
Where Should I Buy My Insurance From?
Online insurance purchase is an ideal way to save your premium and add-on costs. The amount of options available online saves you a lot of time. Most AI-enabled cloud computing insurance aggregators help you compare policies in real-time across a range of factors. Get My Policy is a prominent policy network that encourages informed policy decisions. Looking for car insurance online? Get My Policy to Get a policy.
---