Get Luxury Car Insurance Quotes Online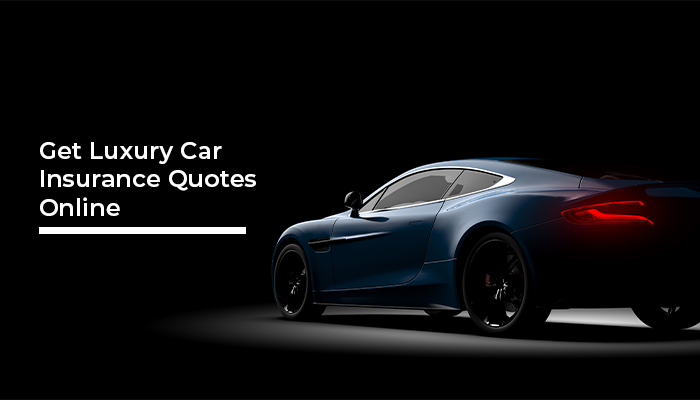 Luxury automobiles are synonymous with maximum comfort. If not for comfort, they surely have a high style quotient. Owning a luxury automobile is a goal that some people work hard to obtain. For some, it may be another advantage of being born with a silver spoon. In any event, a luxury automobile is a status symbol.
These automobiles are, to say the least, costly, and damage to them might result in a hefty repair bill. This is where luxury auto insurance comes into play. Continue reading to learn everything there is to know about luxury automobile insurance.
The Motor Vehicles rules are another essential reason to insure your luxury vehicle. This statute requires that all automobiles be insured with basic vehicle insurance coverage whenever operated on public highways. As a result, if you possess a luxury vehicle, you need to insure it with at least a Third-Party Liability coverage.
What is the Difference Between Luxury Car Insurance and Standard Car Insurance?
Luxury car insurance quotes are mostly determined by their Insured Declared Value. This is frequently referred to as IDV. IDV is defined as the vehicle's market price. It should not, however, be confused with the vehicle's resale value. The IDV is the maximum amount that an insurance company will pay out to a policyholder in the event of a total loss. Total loss refers to theft and damage that is beyond restoration.
When purchasing a car insurance policy online, you may have the option of selecting your vehicle's IDV from a list. Because a luxury automobile costs more than a basic car, its IDV is likewise greater. Because a luxury car's IDV is greater, its insurance price is likewise higher when compared to a normal car's insurance coverage.
How Much Does Luxury Car Insurance Cost?
The cost of your luxury automobile insurance coverage will be determined by the following key factors:
• Manufacturer
• Model
• Vehicle Age
• Location where the automobile is operated
• Claim history
• No Claim Bonus (If applicable)
Aside from the criteria listed above, the cost will also be determined by the type of insurance you select and the insurer from whom you acquire the coverage.
Luxury Car Insurance Rates:
You may use the luxury auto insurance quotes to compare prices for expensive vehicles. A vehicle insurance premium calculator, which can be found on the websites of digital insurers, may be used to obtain free luxury car insurance rates. You only need to provide basic information about your vehicle to learn the approximate premium cost of your vehicle's insurance policy.
How Do I Buy The Best Insurance For Luxury Cars?
The key to finding the best auto insurance for luxury cars is to first assess your insurance needs and then look for a policy that satisfies the majority of those needs at a fair price.
Things To Know About Insurance For Your Luxury Car
There are several things to be considered before purchasing car insurance for your luxury vehicle:
Compare Car Insurance Online
Distinct insurers may provide you with different quotes for your luxury car policy. Compare policies while keeping the required coverage in mind. Some guidelines may be cost-effective but provide limited coverage. In contrast, digital-first businesses are known for providing good insurance at a lower cost.
Choose Correct Add-ons
For an additional fee, add-ons provide additional coverage. Typically, add-ons cover situations known as exceptions. They are also service-oriented at times. Understand your capacity needs and select only appropriate add-ons. Engine Protection, Roadside Assistance, and Zero Depreciation car insurance are some well-known lavish car add-ons.
Calculate Car Insurance Charges
A car insurance premium tool can be used to calculate insurance rates for luxury vehicles. If you are dissatisfied with the quote, you can experiment with changing the coverage to see how it affects this same luxury car insurance premium right away.
Engine Protection Cover
This is an important add-on when it comes to a luxury car. Damage to a luxury car's engine can cause a sturdy repair bill. Any kind of damage to the engine can be managed exhaustively if you have an Engine Protection Cover.
Safeguard Your Luxury Car
Install professional anti-theft equipment to protect your luxury vehicle from theft. Anti-theft gadgets can result in a small reduction in premium.
Return to Invoice Cover
The invoice price of a luxury car is high. Insurance companies settle claims based on the (IDV) or Insured Declared Value, which is less than the invoice value, in the event of a total loss. However, under this policy, the insurance will pay the invoice value instead of the IDV.
Roadside Assistance
If you become stranded in your luxury vehicle, this add-on can assist you. The mechanic will provide the necessary assistance. If the car cannot be repaired immediately, it will be towed to the garage. So you won't have to worry about finding a mechanic or a garage.
For many people, owning a luxury car is a dream come true. The elegant and high-class appearance, high performance, luxurious interiors, and superior ride feel are all important. However, your journey with the car does not end with enjoying the comfort, security, and affluence it provides; maintaining this is equally important. Substandard servicing or unbranded spare parts are not acceptable for such expensive vehicles.
However, the cost of maintaining a luxury car is just as high as the cost of purchasing one. It is best to choose a Luxury car insurance in the USA that will cover all of your needs and more in order to have a stress-free ride at all times. Understand your vehicle's needs and get it insured at a low cost with full coverage to protect this from unexpected events. The following are some critical factors to consider when selecting car protection.
Appropriate Add-ons
Add-ons supplement your car's insurance coverage by providing additional coverage. When selecting an insurance policy, make sure to include the appropriate add-ons that are highly advantageous for exceptional circumstances while still providing a sense of security. Some well-known and suggested luxury car add-ons include Roadside Assistance, Engine Protection Cover, Zero Depreciation Cover, and so on. The emergency roadside cover relieves the stress of trying to find a mechanic or garage while stranded by ensuring proper care in a tough situation. The motor protection cover comprehensively manages any engine damage in your vehicle.
Safeguard your car
To reduce the likelihood of theft and obtain lower insurance premiums, install competent anti-theft devices while purchasing your vehicle to protect your vehicle at all times.
Luxury Car Insurance Companies in the USA
Luxury car insurance companies in the USA are uncommon. All insurance companies might not insure luxury cars. You can go through their websites to check if your car is featured in their list of options and to find the best insurance for luxury cars. You can also call them up to enquire about the same. You can reach out to Get My policy.
---