Renters Insurance in New York: Why Do You Need It?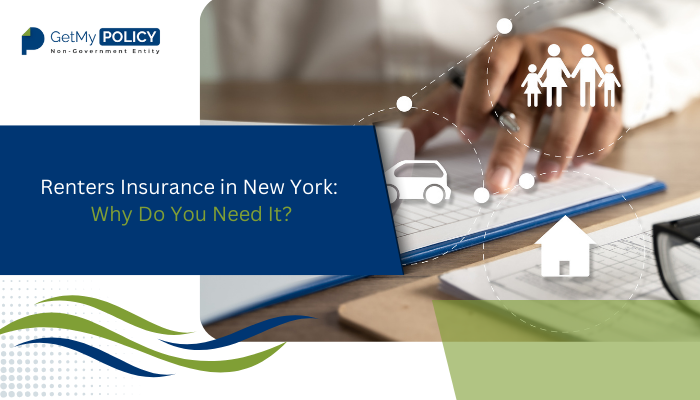 Life is the summary of unexpected things. Whenever you think you have control over your life, suddenly you will see an unwelcoming situation which simply closes all doors of your planned activities.
Every renter needs low premiums and affordable renters insurance in New York that protects your personal belongings and becomes the most valuable asset for renters' protection.
What is Renters Insurance In New York?
Renters' insurance is very much similar to homeowner's insurance. This insurance basically reimburses the renter in case of damage or loss of property due to fire, theft and vandalism.
Whether you rent a cosy apartment or a big house in any state, you are going to need renters insurance in Virginia, Texas, Tennessee, or Houston.
Renters insurance protects you against a bunch of situations, such as any incident that occurred in your apartment, some guest hurt at your place, your phone getting swiped on the subway or accidentally you let your stove open etc.
What Does Renters Insurance in New York Cover?
If you live in New York, you must be aware of its changing seasons and how much they are affecting its people. The scorching summers, seasonal storms, and icy winters along with the increasing crime rate in New York city is compelling all citizens to go for renters insurance. It is a fact that landlord's insurance does not protect you as a renter or cover any of your personal property.
When it comes to renters insurance in New York, renters insurance in Tennessee, renters insurance in Houston or Texas, Get My Policy is making sure you are getting protected against all possible risks that might damage your apartment or stuff:
Personal Property: Your personal property belongs to all inside and outside things of your home. If anything is missing, theft, catch fire, vandalism or any other harm happens then your renter's insurance can help to cover your loss.
Loss of Use: If your place becomes uninhabitable because of your covered damages, then your loss of use coverage can help for a temporary space to stay and manage your basic living expenses such as food, parking, laundry etc.
Medical Protection: If your guest or neighbour gets slipped or fall on your property and needs to go to the hospital, then your medical payments will enter here. Renters insurance in New York covers you if your guest gets injured at your place, or people you may have accidentally hurt outside of your home as well.
Liability Protection: When anybody gets harmed due to any reason at your property, you could be liable. Your insurance company will cover the damages which are caused to others by your property or in your property.
How Much Does Renters Insurance in New York Cost?
Renters insurance in Texas or Virginia is very much affordable in comparison to other insurance. Mostly in the United States, policies average around $10 a month, however, even you will find some little cost coverages such as $5 a month.
If you have precious items in your apartment then you should choose a pricier renters insurance in New York to ensure full coverage.
Who Benefits From Renters Insurance in New York Policies?
When you are planning for a renters policy, it will also include spouses, family members and even pets. If you are renting a place with roommates, keep in mind that you can't have more than two unrelated beneficiaries in one policy.
It means in your policy you can include one roommate. Sharing rooms with roommates is not going to be easy for you. When you are living with many roommates and you are not close to one another.
If your roommate steals or damages your belongings then the policy won't cover it. In such cases, every roommate should have their own insurance policy. As all of you share a room you can make a roommate agreement.
Pet owners get benefits from renter's insurance. In case your dog or cat scares, scratches or bites a neighbour or a roommate, your insurance policy will cover any legal fees or liability expenses.
There are some renters insurance in New York that will cover you when you are off the premises, so you don't have to worry about personal liability or paying for medical bills resulting from any biting/scratching even if it does not happen inside the home.
What Are The Best Renters Insurance Companies In NewYork?
Renters' insurance can be purchased from most major insurance companies such as:
Lemonade
This renters insurance company is known for being reasonably quick with claims and is ideal for people who want basic coverage. Lemonade does not really make it easy to get live help, so it may take a while to find phone help if you have an issue. The firm also covers pet insurance and homeowner's insurance.
Allstate
This renters insurance company is known for those who want flexibility with reporting claims. The best thing about this renters insurance in New York company is that their customer service is excellent and makes paying your bill in a smooth manner.
State Farm
The best thing about this renters insurance company is that it comes with the best support with excellent customer service. They provide reimbursed living expenses to valuable other items. If you want to cover everything then this is the right company for you to get in.
Liberty Mutual
If you are looking for affordable renters insurance in New York, then this is the right company. It allows buyers to pay for exactly the coverage they want. If you love to do customization for your coverage plans then Liberty Mutual can do it.
USAA
This renters company's strength lies in its low rates. You can get a policy with USAA for as little as $10 per month. This insurance also covers earthquake damages. It basically provides insurance coverage to military families.
Assurant Renters Insurance
This insurance firm covers free roommate perks and also instantly delivers the proof to your landlord. Assurant is known for its convenient facilities. The best thing about this renters insurance in New York company is that you can do claim filings easily.
Amica Mutual
Amica Mutual is known for covering your main expensive items, and also boasts a very plush loss-of-use policy for renters. If it is a total loss on your apartment or it is a simple liability, Amica gives you the most affordable price for all types of coverage policies. Don't be afraid about the claiming process, the procedure is very much easy. And if you are looking for basic insurance then you won't get better policies at any other place except Amica.
What Type of Renters Insurance in New York Should You Get?
In an actual sense, there are two types of renters' insurance coverage such as actual cash value, in which the insurer will pay to replace your items at their depreciated value, and replacement cost which means you will get the actual cost of your items.
The replacement cost coverage can be slightly more expensive, however, it is the best option to go for, specifically if you have precious items that you paid a lot of money for.
Wrap up
As there is various renters insurance in New York providers, you need to figure out which policy is right for you. When you are looking for a reputable company, you must check its history and success rate, and look for a wealth of experience in the business.
Check its wealth of experience with the available cheapest renters insurance. Your finances and valuables need to be in good hands, it is easier to cover in case of an unfortunate event.
---